Verteildüsen
Tecdia's dispensing nozzles cater to those looking for precision nozzles of the highest quality. To meet the unique requirements of our customers we offer 3 distinct product lines. VERDIS is a new and versatile dispensing solution offering a high level of accuracy over a wide range of material viscosities. Arque Ultra Precision Nozzles are a no compromise solution best suited for highly viscous materials where accuracy is mission critical. Standard dispensing needles are highly customizable in a wide range of lengths and gauges. Custom coatings and tip shapes are also available.
---
VERDIS Versatile Dispensing Nozzles
VERDIS, where value meets quality.
A new addition to our dispensing nozzles line is the Versatile Dispensing Nozzles, VERDIS.
Through our proprietary manufacturing process, VERDIS was created to work with a wide range of high and low viscous materials without compromising the precision of the application.
Features
| | |
| --- | --- |
| | Machined from a Single Piece |
From tip to end, machined from a solid piece of stainless steel, yielding consistent dispensing performance.
Polished Nozzle Tip
The nozzle tip is lapped to avoid instability and stiction caused by differences in surface tension between the nozzle tip and dispensing material.
Luer Lock Compatible Interface
Standardized Luer Lock compatible interface avoids leakage and detachment from the syringe.
→ Go to Tecdia product website for standard dimensions and configuration drawing
---
VERDIS-S High Fluidity Dispensing Nozzles
With an inner diameter of 30µm, Tecdia sets the new industry benchmark.
VERDIS-S is perfect for extremely low and highly viscous materials.
New internal developments in micromachining have made it possible to offer a stainless steel dispensing nozzle with an inner diameter of only 30µm. As an addition to the existing VERDIS dispensing nozzle line, the VERDIS-S series are ideal for dispensing extremely low and high viscosity materials. VERDIS-S is a great addition to the VERDIS family of dispensing nozzles.
Features
High Fluidity Dispensing
Compared to the standard VERDIS models, the VERDIS-S has a shortened tip that reduces inner resistance and ensures high fluidity.
Designed for Extremely Low and High Viscosity Materials
By reducing inner pip resistance, the precision of dispensing both low and high viscosity material increases. For low viscosity materials inner diameters of less than 100µm are recommended.
Ease of Cleaning
Less material retention in the shorter tip reduces cleaning and maintenance time compared to the standard VERDIS parts.
Material: SUS
Tip-Dimensions of VERDIS-S
 

| | | |
| --- | --- | --- |
| Part Number | Inner | Outer |
| LAZ-S-0308-S | 0,03 mm | 0,08 mm |
| LAZ-S-0510-S | 0,05 mm | 0,1 mm |
| LAZ-S-1020-S | 0,10 mm | 0,20 mm |
| LAZ-S-1525-S | 0,15 mm | 0,25 mm |
| LAZ-S-2030-S | 0,20 mm | 0,30 mm |
---
ARQUE Ultra Precision Dispensing Nozzles
Arque where design meets functionality.
| | |
| --- | --- |
| | Full-Flat Inner Shape |
To ensure the utmost accuracy and peak fluidity, Arque nozzles are engineered with a "full-flat" interior designed with a joint-less internal taper eliminating stepped bore that cause clogging. Combined with this manufacturing process the polished nozzle tip prevents instability and creep-up yielding predictable shots every time.
Tip Interior Tapered Design
By creating a smooth transition from the taper to the tip has virtually eliminated clogging.
Perfect Alignment
Joint-less interface improves pressure response between the nozzle and the syringe.
Arque-S
Shorter nozzles lengths are available for some Arque products.
→ Go to Tecdia product website for standard dimensions
---
Standard Dispensing Nozzles
Standard Dispensing Needles for use with custom production setups.
Customizable
Tip Polishing
Pipe Length Tolerance
7~19 Gauge Pipe
Polished Pipe Interior
Pipe Tip Tapering
Coating

→ Go to Tecdia product website for table of pipe gauges and outline drawing
---
Multi-Nozzle Dispensing Fixtures
Customized nozzle assemblies made with your dispensing conditions in mind.
We also put our highly advanced machining technologies to work in making bent nozzles.
Features
Superior Pipe Attachment
We join nozzle bodies to pipes by pressing and crimping rather than using adhesives, which prevents detachment and leakage.
Preventing Pipe Sinking
Unique machining technologies to prevent the pipe from sinking in.
Low Friction Dispensing
Pipes can be internally polished, stabilizing dispensing amount.
→ Go to Tecdia product website for table of pipe gauges
---
Ruby Nozzles
Specialized nozzle fitted with polished Ruby tip for durability and high fluidity.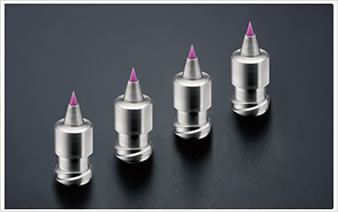 Polished Nozzle Tip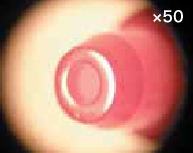 FeaturesThe nozzle tip is polished to avoid material instability and accumulation caused by difference in the surface tension between the nozzle tip and dispensing material.
High Fluidity
Due to the low static friction properties of the ruby, we are able to achieve high fluidity.
Micro ID
With an ID of ø0.05 ~ ø0.5 available, more precise dispensing is possible.
→ Go to Tecdia product website for standard dimensions and outline drawing
---
Special Application Nozzle
Specialized nozzles to meet your unique needs.
Elliptic Tip Nozzle (For SMD)

Multi-Shot Range Nozzle
Reduces takt time incorporating two shots onto one.
Slit Nozzle (For SMD)
Multi-Shot Range Nozzle
Enables "drawing dispensing" with a cross pattern shape. This nozzle can also reduce takt time by incorporating four shots into one.
Long Nozzle (For LED (Phosphor), CMOS)
Nozzle for Low Viscosity / Low Pressure Dispensing
Allows the dispensing of low viscosity materials with minimal dripping. The surface resistance of the nozzle interior allows excellent accuracy while dispensing materials under very low pressure (<0.1MPa).
Fine Nozzle (For Crystal Oscillators)
Nozzle for Dense Component Environments
Used for hard to reach areas. Without altering the inner diameter, tip thickness is reduced from 50um to 25um allowing dispensing in extremely narrow areas between board components.
Stamping Nozzle (For SBD)
Stamp Method Nozzle
In traditional pin transfer method there is a need to repeatedly dip the pins into a reservoir for reapplication of material. This nozzle has eliminated repeated dipping, allowing a syringe to feed the material vertically into the nozzle improving takt time.
Solid Piece Nozzle (All-Purpose)
High Fluidity Material Dispensing Nozzle
Pipes are attached to the nozzle fixture by press and crimp methods vs. using adhesives. This prevents unwanted detachment and leakage.
→ Go to Tecdia product website for details